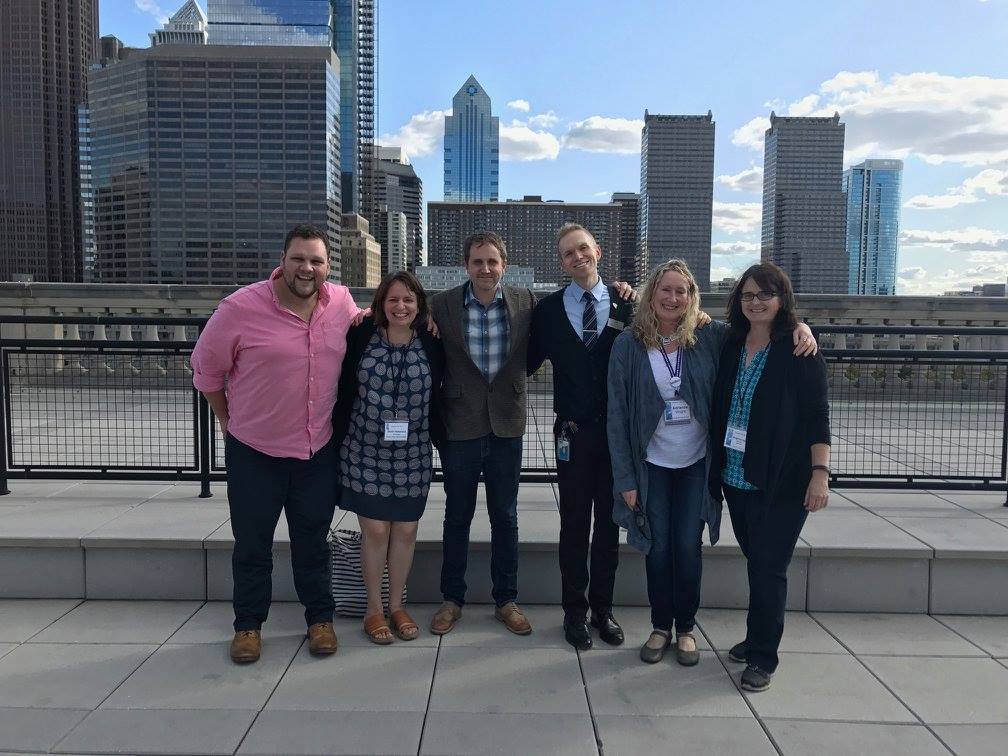 All in all, this was another fabulous SCBWI Eastern PA event! Thank you to faculty member and host, library curator Chris Brown for arranging the beautiful venue at the Philadelphia Free Library. Great faculty also included agent James Burns, art director Sarah Hokanson, and author-illustrator Jonathan Bean. Illustrator coordinators past and present, Adrienne Wright and Virginia Law Manning did a fantasic job. Thanks to Merrilees Brown for this great photo!
I thought I'd share my own experience this year and a few key takeaways. First, I need to get back to the basics and reminding myself to look at composition, contrast, and color. Duh, right? But seriously, it's so easy for me to get caught up in my characters, expression, and making things bright and fun, the I forget to crank down the volume on the supporting elements and the background. Where in the heck is my eye looking? We had a pre-assignment from the art director, Ms. Sarah Hokanson, to show a character in four seasons, submitting 3 sketches and one finish. This was a great chance to revisit a little dragon character named Sparky, that I developed a few years ago. He was first created in pastel, but I decided to watercolor him for the summer scene. Feedback on the assignment, posted here, was that the raft that little Sparky is riding on is too bright. I was going for the ultimate contrast of green and red to make the dragon pop, but instead I've just drawn attention to the raft. The orange fish needs to stand out more. My intention was to leave the background white to provide room for text, and not get too busy, but the feedback was that it was just too white. The suspense of the hungry gator at the bottom right added a fun element. Regarding the fall, winter, and spring sketches- adding color made them appear too finished and that it may not be clear that these are sketches. Adding color was an afterthought for these, as I wanted to clarify his little blue blanket and bear in the images. I think that this probably depends on the situation and your relationship and conversations with the art director.
Secondly, sketches are important. I need to put them on my web site. I've spent a few days digging through my sketch books to begin a sketch gallery on my web site. I need to make sure it's clear that they are sketches and not finishes, but I want it to look organized. Also, I am asking myself if the energy from my sketches is translating to my finish. Do I want it to, or do I want to finesse it? It depends, I guess. I think when it "doesn't matter" there is an expressive freedom that pours from the pencil, you know, when you think nobody's going to see it but you. When I know someone's going to look, I tend to tighten up for the finish, which often feels like I've lost something. Even these Sparky sketches above were revised and finessed sketches because I knew they would be up for public consumption.
It was so nice to see familiar faces and meet some new friends all at different points on the same journey. Every SCBWI event is a chance to learn, grow, and be inspired. Truly, if you want to get into children's publishing, and you haven't been to one of these events, jump in! You are among friends. The smaller, local events are a special opportunity to get to know other artists in your area and meet like-minded, creative people. Even if you are just starting out, and not brave enough to put that portfolio out on the table, GO! Go and learn. Go and evaluate how your work compares to your peers. Go and meet like minded people. Go and challenge yourself to look at your work with new eyes. Go and be inspired to try something new. For those who are ready, get that critique! It is so important to receive feedback from industry professionals. Not your husband, wife, kids, and usual cheerleaders. Be open to that constructive criticism that is so essential to growth as an artist and challenges you to push harder. Sometimes it hurts, but it almost always helps. Just GO! There was so much more inspiration and information gleaned from the presentations of all of the faculty, as well as viewing the other artists' work. It's too much to write about here, but suffice it to say that it was truly a worthwhile experience. I hope that sharing this inspires you to participate, no matter where you are in your publishing journey.