Thrilled to have been able to attend SCBWI NY and see old friends and make new ones.  Also great to meet the people behind the twitter/facebook contacts.  The scbwi community is so generous, and kind.  My racing giraffe Home Stretch made the shortlist for the Bologna gallery, and I am thrilled to be in such good company.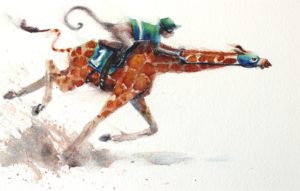 Congratulations to those honored as winners and finalists in this gallery, and wow! I am so impressed by the talent represented here.  Gorgeous work!
I am so proud and excited for my friend, Adrienne Wright, for placing second in the Tomie DePaola contest, and enjoyed meeting Lisa Cinelli, and Anni Matsik.  All of the winners should be proud!  Visit the entire gallery.
I took time on Thursday to visit the Society of Illustrators. So glad I did.   Love that Olivia reigned supreme in the hall of portraits!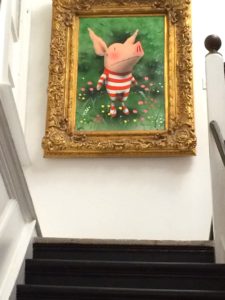 The conference has left my head spinning with inspiration, information, encouragement, new self expectations, and challenges.  Throughout the weekend, there was talent everywhere, and I gleaned gems of wisdom and awe from each speaker, too many to mention.  The Illustrators Intensive speakers, William Joyce, Sophie Blackall,  Paul O' Zelinsky, Mike Curato, and James Ransome  (I know, right?  I had to get over my "I'm in the same room with these jaw dropping celebrity rock star artists " thing to listen) remind me to work hard-very hard, and never give up, but love it too.  I am impacted by a common thread in many of the speakers, and workshops, that what I choose to leave out is as important as what I leave in.  I am remembering the illustrations/illustrators of my childhood, and why I loved them so.  Evaluating what spoke to me, has kindled my desire to evoke a similar response in my own pieces.  Let that joy flow through to the page.  Feel it. (sound familiar, E.B.?)  I am hearing the echoes of my critique group, mentors, self evaluation, and portfolio reviews.  I apologize to those I did not name specifically, I appreciated everyone- the volunteers, panel participants, moderators, faculty, staff, and board members.  I know this all takes a lot of time and is a labor of love.
I am embracing the challenge and ready to push harder, dig deep.  The studio awaits!